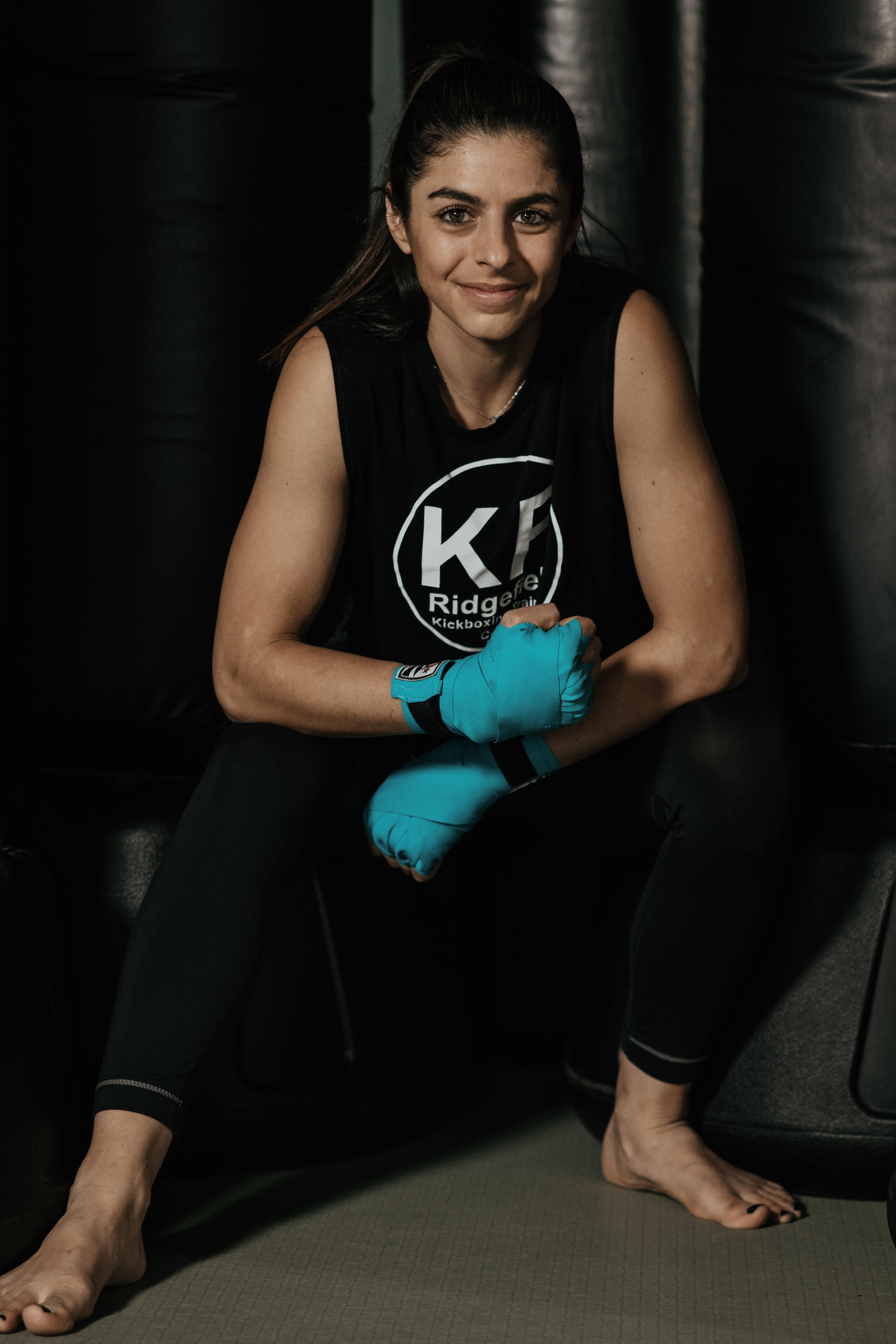 LYNDSAY
Lyndsay (AKA Master Lyndsay) is an internationally ranked 4th Degree Black Belt in Tae Kwon Do and also has 15+ years of Kickboxing experience. Along with her 20+ years of Tae Kwon Do training, she has also studied the art of Muay Thai (often referred to as Kickboxing). At the age of 3, she was in her first uniform and by the age of 10, she received her First Degree Black Belt. She has studied and trained under her father Master Steve Doyon at his world-renowned Martial Arts studio in Danbury, CT where she started assisting at the age of 15. Lyndsay has traveled all over the world visiting the top martial arts schools in the country and also studied Kickboxing in Thailand, the birthplace of Muay Thai. With her background in the Martial Arts and their knowledge of the Fitness industry, Lyndsay and her father developed "KickFIT" (Kickboxing Fitness).
Raised in Ridgefield, Connecticut, Lyndsay believed that Ridgefield was the ideal town for her first Kickboxing Fitness facility. Her studio: Kick
FIT
CT has been carefully crafted over the past 15 years. The classes burn tons of calories, build strength, confidence and "Killer-Abs." Students range in age from 15 to 60! Kick
FIT
is for everyone. But, women tend to gravitate towards the class due to its nonintimidating nature.
1. WHAT INSPIRES YOU?
My family, my husband and my students. My parents worked hard and taught me that through hard work and dedication we could have anything we would want in life. With this mindset, I've acquired skills through my many years of training and was able to open KickFIT. My husband is a huge support and helps me run the behind the scenes of KickFIT: Thanks to him, I have a desire to be better and challenge myself on a daily basis. Last, but certainly not least, my students. YOU inspire me to always give my best and keep learning.
2. WHAT WOULD YOU SAY TO SOMEONE THAT WANTS TO GET MOTIVATED?
Don't wait! If you want it, go for it. Don't let anyone or anything hold you back. Fear of the unknown is what holds us back from accomplishing so much in our lives, but that feeling of butterflies in our stomach is what makes us feel alive.
3. WHY IS KICKBOXING APPEALING TO YOU?
Every class is different and the workout is just as hard no matter if you are a beginner, or have been kickboxing for years. I still leave drenched with sweat after 30+ years under my belt.
4. HOW LONG HAVE YOU BEEN INVOLVED IN THE MARTIAL ARTS?
30+ years. I started Tae Kwon Do at the age of 3. At 15, I started assistant teaching and added Muay Thai to my list of classes. The passion for the art is in my blood.
5. WHAT IS YOUR…
Favorite punch? Liver Shot
Favorite kick? Low Roundhouse/ Soccer Kick; The noise when you make the perfect connection with the bag never gets old.
Drill that makes you sweat? Any repetition drill; 100's of everything drill at the end of the class takes your workout over the edge.
Guilty pleasure? AHAHA. Food! The list can go on and on. I'll narrow it down to homemade mac and cheese. As a child, I would beg my mom to make it for me. I would eat it for breakfast, lunch and dinner if I could.
Quote you live by? One by Woodrow Wilson, I don't remember how I stumbled upon this, but on days when I need that reminder, I repeat this quote to myself. "You are not here merely to make a living. You are here in order to enable the world to live more amply, with greater vision, with a finer spirit of hope and achievement. You are here to enrich the work, and you impoverish yourself if you forget the errant".